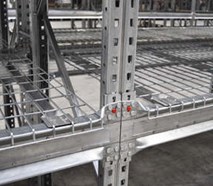 Wire Mesh Shelf
Mesh Decking/Shelving sits on the pallet racking beams and acts as a shelf. This offers an alternative to timber decking and solid steel panel solutions.
It is suitable for small carton storage at picking levels, storage of non standard pallet sizes and to offer protection for operatives and fork lift truck drivers working under tunnel bays.
It also allows the permutation of sprinkler water in the event of a fire, offering a safer alternative to wooden shelving.